Reverse Osmosis Systems in Los Angeles & Surrounding Areas
Providing Fresher, Purer Water For Families
Reverse osmosis (RO) is the most effective and economical way to treat drinking water today. Pro Water Solutions offers a 50-gallon-per-day, four-stage RO process that extracts all contaminants in your tap water by 95%. This includes but is not limited to arsenic, fluoride, chromium, nitrates, viruses, chemicals, pesticides, and bacteria.
We strive to help families and businesses throughout Southern California achieve healthier, cleaner water by installing reverse osmosis systems. You can feel confident drinking tap water in your home with an RO system in place. Reverse osmosis is a great way to help your environment by eliminating plastic water bottles.
How Reverse Osmosis Works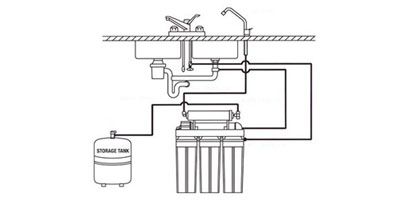 The best way to describe the RO process is to take a glass of water with ice and pour it into a towel. You will see that the water pours through the towel and the ice stays behind. The ice left in the towel represents the contaminants in the water. The reverse osmosis process stops contaminants while allowing only pure water to flow through. Your water is clean, clear, fresh, and pure, all at pennies per gallon.
This is the basic concept for a "semi-permeable membrane." The RO membrane is designed to allow molecules of a specific size and smaller to easily pass through the material while blocking larger molecules.