Water Softeners in Santa Clarita & Surrounding Areas
Invest in a Water Softening System
Hard water has a higher-than-average concentration of minerals, specifically calcium and magnesium. Water hardness is measured in grains or parts per million (ppm). The Water Quality Association recommends a water softener for the home if the water hardness is 10 grains (171 ppm).
Hard water causes limescale to form inside water pipes and hot water heaters, which reduces performance and efficiency. Unsightly limescale also forms on the outside of faucets as a result of hard water.
If you have a hard water problem in your home or business, Pro Water Solutions can recommend the right water softening system for you. With our help, you can be reaping the benefits of softer water in no time.
To learn more about water softeners in Santa Clarita and the surroudning areas, contact us online or call (661) 338-6294 today.
How does Water Hardness vary Around the U.S.?
According to Wikipedia, more than 85% of American homes have water that can be termed "hard". One of the states with the hardest water is California, particularly Southern California.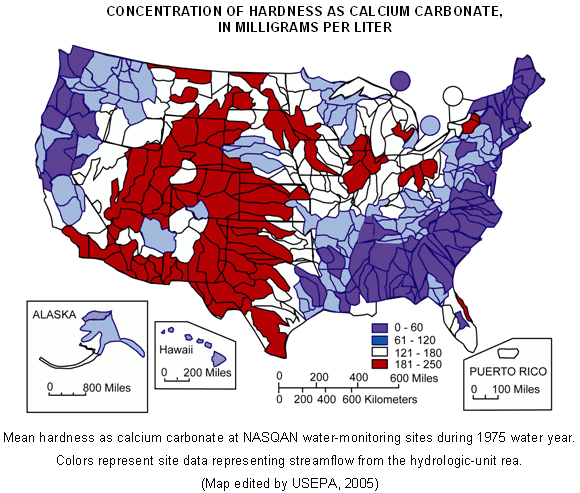 How Water Softeners Work
A water softener removes the positively charged ions that cause water to be "hard" and replaces them with sodium (salt) ions. In other words, a water softener is simply an ion exchanger.
A water softener accumulates calcium and magnesium minerals in its tank. Periodically, these minerals are flushed down the drain when the water softener regenerates.
Salt (sodium chloride) is added to the water softener tank during regeneration. The more often a water softener is regenerated, the more salt will be used. Pro Water Solutions uses the most salt-efficient system available in today's market and uses a metered valve to save salt usage. When the water is not used, the system will not regenerate.
Recent studies by the Water Quality Association have proven that water softeners are a benefit to the environment. Water softeners improve the energy efficiency of appliances in the home and reduce the homeowner's carbon footprint.

Water Softener Carbon Combination
The water softener carbon combination brings out the absolute best in water and is our most popular system. We combine the benefit of softened water with a carbon-based tank that removes all chemicals, chlorine, chloramines, ammonia, and other disinfectants found in city water supplies. The softener and carbon combination gives you fresh, high-polished water without problematic minerals that cause water spots throughout the whole home.
Contact us online or call (661) 338-6294 to get started. We look forward to serving you in Santa Clarita and the surrounding areas.