Reverse Osmosis Systems in Santa Clarita & Surrounding Areas
Providing Fresher, Purer Water for Families
Reverse osmosis (RO) is the most effective and economical way to treat drinking water today. Pro Water Solutions offers a 50-gallon-per-day, four-stage RO process that extracts all contaminants in your tap water by 95%. This includes but is not limited to arsenic, fluoride, chromium, nitrates, viruses, chemicals, pesticides, and bacteria.
We strive to help families and businesses achieve healthier, cleaner water by installing reverse osmosis systems. You can feel confident drinking tap water in your home with an RO system in place. Reverse osmosis is a great way to help your environment by eliminating plastic water bottles.
How Reverse Osmosis Works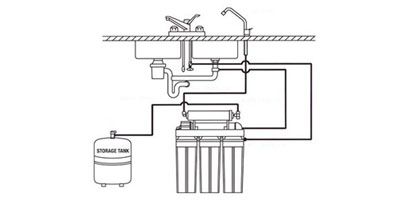 The best way to describe the RO process is to take a glass of water with ice and pour it into a towel. You will see that the water pours through the towel and the ice stays behind. The ice left in the towel represents the contaminants in the water. The reverse osmosis process stops contaminants while allowing only pure water to flow through. Your water is clean, clear, fresh, and pure, all at pennies per gallon.
This is the basic concept for a "semi-permeable membrane." The RO membrane is designed to allow molecules of a specific size and smaller to easily pass through the material while blocking larger molecules.
Why Use RO Water Treatment
The benefits of a reverse osmosis water treatment system are seemingly endless. For cleaner, healthier drinking water, RO is often the way to go.
You may enjoy a reverse osmosis water treatment system because:
There's no monthly bill.
There's no need to buy bottles from a store.
Your water quality will be higher than many famous bottled waters, most municipal water supplies, and private wells.
You won't be contributing bottles that end up in landfills, rivers, streams, and oceans.
RO is the green solution to pure water.
Pro Water Solutions can often attach your reverse osmosis unit to both the kitchen sink and the refrigerator so you get the benefit of purified ice and chilled drinking water.
Go from this...to this.
Why Choose Pro Water Solutions
Year after year, customers continue to be satisfied with the quality of our workmanship and service. Our Santa Clarita water treatment specialists are dedicated to protecting the health and well-being of you and your loved ones.
You'll enjoy working with us because:
We don't use high-pressure sales tactics.
We give you the best quality at the best price with the best service.
Pro Water Solutions is not a franchised company or dependent on sales commissions; therefore, we're often half the price of the competition.
Pro Water Solutions warrantees the products and the installation – we service what we sell.
Our reverse osmosis system has received the Gold Seal of Approval, which is very difficult to obtain.
Contact us online or call (661) 338-6294 to get started. We look forward to serving you in Santa Clarita and the surrounding areas.